Six Capital Celebrates Croatia's Independence Day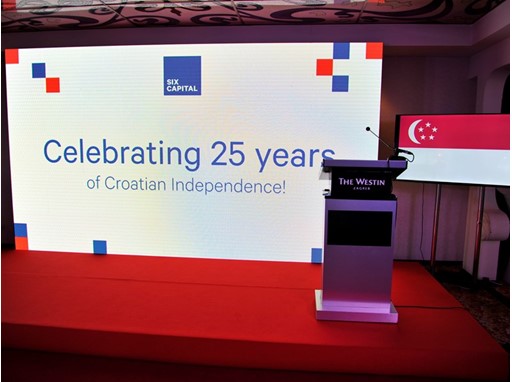 On 25th June 2016, Six Capital lit The Westin Zagreb in red, white and blue – the colours of the Croatian flag – and hosted a dinner party to celebrate 25 years of Croatian independence.
The evening began with cocktails, an acapella band and a choir performance. Guests included representatives from the Ministry of Foreign and European Affairs, Zagreb School of Economics and Management, Kaba Bank, Petrac Winery, Hipersfera, IN2, INsig2, DOK-ING, MobileOne, Rimac-Automobili, Geofoto, Platinum Invest, Croesus Capital Partners, as well as many others. Miss Universe Croatia 2015, Ms Mirta Kustan was the special guest for the dinner.
Mr Patrick Teng, Founder and Executive Chairman of Six Capital shared his ambition to create value through co-creation, overturning conventional thinking and working together. Through a number of initiatives, Six Capital aims to unlock value, improving access to new opportunities and helping to grow the Croatian economy.
Contacts
Jaslyn Tan

Vice President & General Manager

Singapore

+65 6226 2353
More From In the News
SUBSCRIBE TO RSS FEED
XML