Six Capital and UGM Partner on Digital Innovation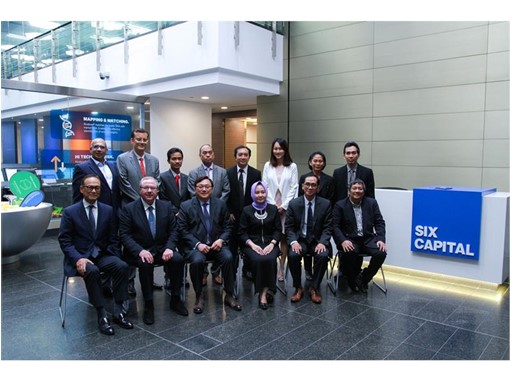 Six Capital and UGM Partner on Digital Innovation
Six Capital and Universities Gadjah Mada signed a Memorandum of Understanding to develop value creation models that can push Indonesia to the forefront of the digitial revolution with the potential to benefit millions of its citizens.
Harnessing the power of crowds
Social media has proved that the power of crowds can change the course of a nation and affect governments.
Ripe for disruption? This is the question that faces many nations as well as industries in today's fast changing world. Digital technology such as blockchain, preventive healthcare, the Internet of Things and social media are transforming industries and creating new business models.
Indonesia can be at the forefront of such innovation but the country must create a laser-like focus on which areas to target. Six Capital, a Singapore-based pioneering company in "New Game" strategy , and Universitas Gadjah Mada (UGM), Indonesia's oldest and most reputable institute of higher learning, are planning to help the nation do just that.
Under a Memorandum of Understanding (MoU) signed recently in Singapore, UGM and Six Capital have entered into a partnership to identify and develop value creation models that will push Indonesia to the forefront of the digital revolution and which can benefit millions of its citizens.
UMG rector Dwikorita Karnawati noted that the university is in the process of creating a number of Innovation Centers and is thus looking for potential partners. "With this MoU, we see promising opportunities to establish such R&D facilities so that the findings can also be incorporated into our curriculum."
Leading a team of seven senior faculty members on a visit to Six Capital offices in Singapore, she added that "our willingness to collaborate with Six Capital is with the understanding that we must change with more innovative action and faster social and economic development."
Prof Dwikorita and her colleagues also engaged in a roundtable discussion with Patrick Teng, founder and chairman of Six Capital, and Professor Gordon Hewitt, chairman of Six Capital's Global Advisory Board.
New game healthcare
For Indonesia to develop a innovative culture and create new industries, it must have a very clear view on what innovation is all about in today's world, as well as practical clarity on what needs to happen to bring about successful innovation, noted Gordon, who is also Professor of International Business and Corporate Strategy at the Ross School of Business, University of Michigan.
UGM, he said, can help Indonesia create an agenda for innovation; create an innovation capability; and create an innovation scoreboard. "Lets think of a target we want to achieve. We must be precise and very focused in developing hard-nosed innovation capability."
"In many industries the prevailing assumption is that investing in more R&D makes you more innovative," Hewitt noted. "But if we take the example of the pharmaceutical industry, what you spend on R & D may not determine your innovation productivity. Every traditional pharmaceutical company is finding it more difficult to develop new blockbuster drugs."
Healthcare, noted Prof Dwikorita, is one area where UGM and Six Capital can collaborate to make a real difference. "Indonesia currently imports more than 90% of its medicine so of its medicine and that is why we are very keen to innovate in healthcare."
With its innovative BioPay business and technology model, Six Capital can help Indonesia be a leader within ASEAN (Association of Southeast Asian Nations) in digital and preventive healthcare, said Patrick Teng, founder and chairman of Six Capital.
Six Capital is currently working with the Massachusetts Institute of Technology (MIT) on developing wearable technology that will be able to monitor the wearer's vital health signs as well as his or her physiological changes. "Indonesia has a large population that can benefit from such technology and imagine if the device is made in Indonesia," noted Teng.
The data collected from such devices can help scientists and researchers to gather health data and develop more targeted preventive measures. UGM and Yogyakarta, added Teng, could lead the nation and the region as a whole in developing and implementing such technology.
Another area in which UGM and Six Capital are exploring collaboration is in developing a digital currency using blockchain technology. According to Richard Olsen, the founder of Swiss startup Lykke, a new global marketplace for multiple assets and financial instruments is unfolding based on block chain technology.
"The adoption of Bitcoin technology will ultimately lead to a redesign and streamlining of the global banking and financial architecture," Olsen noted in a recent interview. "The peer-to-peer crypto technology with the blockchain algorithm is a global ledger that keeps track of all the transactions and prevents double spending."
"UGM can run a blockchain for Indonesia and help stabilize the rupiah," Teng said. "Currently Indonesia does not have a forward market for the rupiah beyond three months and we can help create such a market."
With the MoU, UGM and Six Capital are setting in place a partnership that will have enormous impact on the country, said Paripurna Poerwoko, vice rector for Cooperation and Alumni Relations.
"We are a people university and we make sure that institutions connect to our people so our activities have a direct impact on them," he said. "With these ideas, we are confident that we can achieve our objective."
Contacts
Jaslyn Tan

Vice President & General Manager

Singapore

+65 6226 2353
More From In the News
SUBSCRIBE TO RSS FEED
XML